There is plenty of room up there in the Chaifetz Arena rafters.
How about above the north sideline, suspended near section 205?
That's where you can find the first two Billikens basketball banners from the Travis Ford era. One one-and-done trip to the NCAA Tournament in 2019. One Atlantic 10 tournament championship that made it possible.
Time for a newer one. A bigger one. Season seven needs to be a banner year for Ford's team, and it should be.
Ford won't holler it from the rooftops of Midtown, but he knows what we know. This should be his best team. Evidence was obvious even in Monday night's exhibition against UMSL coach Bob Sundvold's tenacious Tritons, which SLU won 81-58.
The Billikens are teeming with talent, loaded with experience and propelled by a desire to be better than just good.
Great teams have great guards. They have seasoned starters. They can get to the basket and shoot well from the outside. They rebound and defend with intensity. They are fueled not by preseason praise — SLU was picked second in the Atlantic 10, behind Dayton — but by the determination to turn true the kind of statements this bunch wears on the back of its new warm-up shirts: "The journey is the reward."
We'll see where this journey goes, but make no mistake. Ford's team has the pieces to go places. Need more proof? How about this snippet from the bible of the sport, Chris Dortch's Blue Ribbon College Basketball Yearbook.
"It's hard to look at this team and not see big things," reads the publication. "Saint Louis is deep, experienced and talented. That's a pretty good combination."
Point guard Yuri Collins on Monday was correctly named to the Bob Cousy Award watch list, along with other candidates, for best point guard in the nation honor. If he cuts down on some of his turnovers, he can win it. Credit goes to SLU athletics backers for playing the name, image and likeness game to keep Collins here. Tennessee came for him hard this past offseason. He stayed. The investment will pay dividends.
Javonte Perkins did not play Monday, as there is no reason to rush this ankle injury he's dealing with, but he's back from last year's season-ending knee injury, which turned the upside of Ford's sixth team into the sad side of the NCAA Tournament bubble . Perkins doesn't have to lead the team every night anymore. His team got better as he healed. He just has to contribute, and he will.
Like seasoned guard Fred Thatch, big man Francis Okoro improved as last season progressed. Okoro quietly produced double-doubles in five of the Billikens' last eight games last season, despite the double-teams he demanded.
Gibson Jimerson, who ranked third in the A-10 in scoring last season, should be harder to guard because of more threats around him. He made 42% from 3-point range last season. That'll work, and it could improve now.
Here's another name who should help that long-range game: Sincere Parker. The junior college transfer's shot is a synonym for his first name—true. On Monday night, he swished the first in-game 3-pointer he hoisted while wearing an SLU uniform to spark a flurry of 11 points scored in four minutes. Parker finished with 15 points for the Bills, sharing the team lead with Jimerson.
If Perkins gets back to being Perkins, and Parker can score like this, look out.
Transfer arrival Javon Pickett quietly led Missouri in scoring in SEC play last season. Like Thatch and Collins, he is a relentless defender. Don't sleep on his potential for this group. If he played for SLU last season and repeated the scoring he put up in the SEC, he would have tied Collins' for second-highest on the team behind Jimerson's 16.3.
Ford started Collins, Pickett, Thatch, Jimerson and Okoro Monday. That lineup could change based off Perkins' health and bench names (Parker!) who push forward. High-flying Terrence Hargrove Jr., needs to crash the boards with a fury. Energetic Temple transfer Jake Forrester adds frontcourt depth. Two impressive freshmen — Kellen Thames and Larry Hughes Jr. — are capable of helping, but in the best kind of way. They don't have roles waiting on them. They have to take roles away from someone else. An internal competition should boil within this bunch all season. Iron sharpens iron.
We have to mention two conditions.
Key starters have to stay healthy, and bad luck has to buzz off.
SLU has paid enough misfortune tax in recent seasons. Perkins' knee injury last season. COVID cut through SLU twice in the two seasons before that one, ruining an offensive flow after an outbreak in 2020-21, and canceling the A-10 and NCAA tourneys in 2019-20, after the Billikens had won six of their last seven games . Matching the 2019 NCAA Tournament appearance should not be the goal now. It should be the start of the goal. If not, Ford will have underperformed with his best team yet.
Yes, Dayton is good and loaded with talent, too. But the Billikens have seasoning the youthful Flyers don't. Better take advantage now, because the Flyers will continue to grow up fast.
Through six seasons of the Ford era, the Billikens have become a team seemingly one season away from its big breakthrough.
If it's going to happen, now's the time.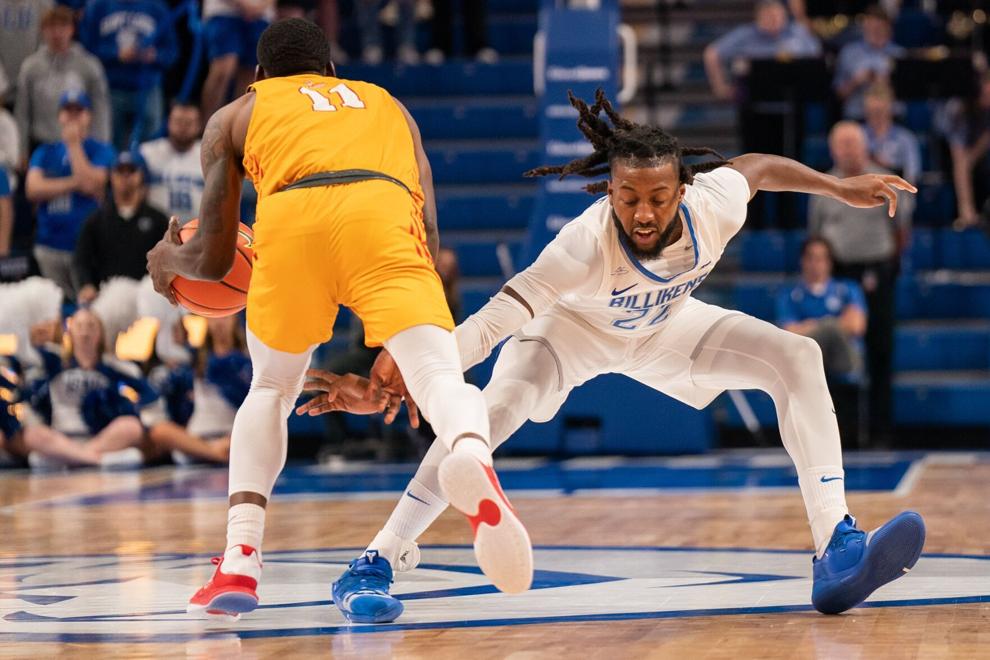 .